How to Drain and Clean a Hot Tub Properly
Thought draining your hot tub was difficult? In this guide, we provide you with the best steps to ensure that you can drain your hot tub easily and safely.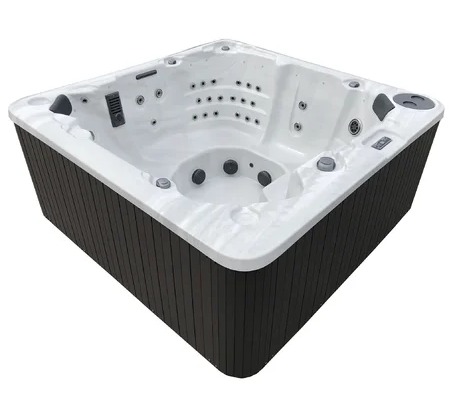 Replace your hot tub's water every 4 months or as needed. It gives you a chance to clean out the shell and hot tub filters completely along with the front the jets. This will ensure that your water will stay sanitized and look clean.

Draining, Cleaning and Refilling a Hot Tub – step by step:
This is a step-by-step procedure along with instructions on how to drain a hot tub. It is a guide for draining a hot tub so that you can have an idea of what needs to be done.
1. Turn the Power Off:
Before draining, it is important to turn off the power connection.
2. Flush the Lines:
Even if your sanitizer level is perfect, your hot tub can still develop biofilm: a bacteria that isolates itself from the chlorine and starts exposing other contaminants like legionnaires or staphylococcus; these undesirable bacteria will cause health issues like stomach illness.
The very first step is to add a a product that will flush out this biofilm. This is a special cleaner and it is formulated to break down the biofilm. Once you have added
Spa Marvel Cleanser for a very deep clean of your hot tub, let it circulate for 24 hours.
FOLLOW THE INSTRUCTIONS
3. Drain Your Hot Tub Water:

You can drain your hot tub with a quick drain, sump pump or just your garden hose. I use a quick drain because I clean the hot tub shell as it's draining.
4. Clean Your Hot Tub Shell:
Hose down and clean the shell as it's draining down. Here are the products I use.
5. Clean Hot Tub Filters:
While you are doing Step 2, Clean and soak your hot tub filter(s) in
Spa Marvels Filter Cleaner. Make sure you are performing routine cleaning of your hot tub filter every week. Just use the Filter Cleaner on your hot tub purge days and if you have a second filter or two. Always have filter "back-ups".
6. Start Refilling Your Hot Tub:
Once you have worked through all the draining process, cleaning and drying then you can fill it up and start using it once you have balanced the chemistry in the hot tub water. I recommend using a
water filter on the end of the hose. They will filter out all the impurities. Otherwise, it will have a negative effect on water chemistry like bacteria, carbon, and impurities. Place the hose and fill it up to the recommended level.
7. Turn on the power:
Turn on the GFCI Hot Tub breaker, start circulating the water and setting your temp.
9. Add
Spa Marvel Treatment and Conditioner:
After you have set your hot tub temp and it has gotten to that point (after about 6-8 hours), add spa marvel Treatment and conditioner.
Here is the spa marvel package sold with all 3 products needed for the perfect hot tub water.
To learn more on hot tub stuff, go to our YouTube Channel